All News
Hawaiʻi Youth Sustainability Challenge
December 06, 2016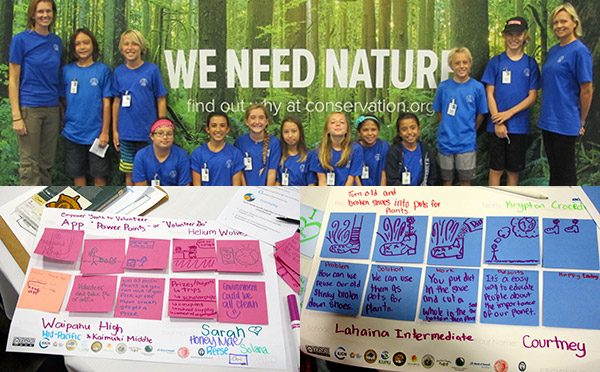 Hawaiʻi Youth Sustainability Challenge (HYSC), a new mini-grant program aimed to support emerging environmental projects from Hawaiʻi's public, private, and charter schools launched this week! Students and educators in grades K-12 have the opportunity to apply for funding to kick start their own grassroots initiatives and identify new, sustainable solutions for their schools and communities. HYSC was first announced by First Lady Dawn Amano-Ige at the 2016 IUCN World Conservation Congress and is dedicated to inspiring youth to be intentionally engaged with the environment through action, advocacy and education. Applications for the HYSC mini-grant are available through Kōkua Hawaiʻi Foundation's Mini-Grant Program.
Students are encouraged to propose fresh projects or ideas that emphasize their environmental passions and motivation, interests in conservation education and desire to create sustainable, localized change. They must be presented as a team through one of the three structures:
Individually-Powered Projects - One student and one teacher advisor
Group-Powered Projects - Multiple students with one student leader and one teacher advisor
School Collaboration-Powered Projects - Two or more schools collaborating on projects with one student leader and one teacher advisor
HYSC mini-grants will range between $150 to $1,000 based on the project scope and needs. Grant applications are open with the deadline for submission on January 29, 2017. Grants are scheduled to be distributed at the end of February through early March and projects are required to be implemented by the end of June.
The program is funded by Harold K. L. Castle Foundation, Kamehameha Schools and Public Schools of Hawaii Foundation, with the support of the Hawaii State Department of Education in partnership with KUPU. For more information about the Hawaii Youth Sustainability Challenge, please visit www.kokuahawaiifoundation.org/minigrants.
Comments