All News
Jack Johnson Announces Hometown Hawaiʻi Shows to Benefit Kōkua Hawaiʻi Foundation
April 14, 2017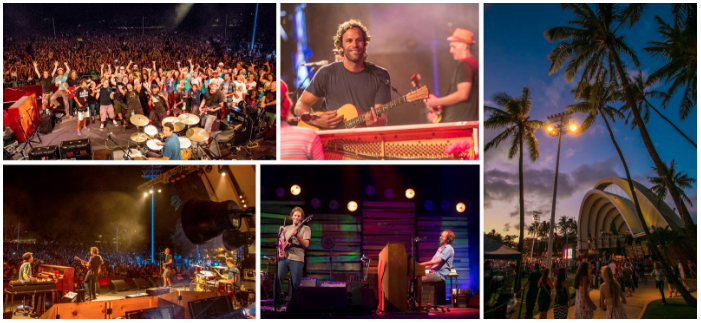 Photos by Jim Russi and Brian Bielmann
Just announced, Kōkua Hawaiʻi Foundation Co-Founder Jack Johnson will be playing two hometown shows, August 4th and August 5th at the Waikīkī Shell in Honolulu. All proceeds from the shows will benefit the Kōkua Hawaiʻi Foundation to support environmental education in Hawaiʻi schools and communities. Pre-sales kick off April 18th, with Kōkua Hawaiʻi Foundation members receiving the first opportunity to purchase tickets, followed by two more opportunities for Hawaiʻi residents to score tickets before the general on-sale on April 23rd (See below for Pre-Sale and On-Sale Details).
The Waikīkī shows will feature the All At Once Village Green, where fans can snack on tasty island fresh treats, learn about environmental projects, and participate in interactive games and crafts with Kōkua Hawaiʻi Foundation and over 30 other local non-profits and food vendors. Non-Profit partners such as Slow Food Oʻahu, Mālama Loko Ea, and Hoa ʻĀina O Mākaha will promote sustainable local food initiatives, and organizations including Sustainable Coastlines Hawaiʻi, Mālama Pūpūkea-Waimea, and Surfrider Oʻahu will share information about ocean stewardship efforts and how to get involved. The Keiki Stage area will also offer special activities for kids including creative reuse art projects hosted by Art Explorium, along with special performances from the Honolulu Theatre for Youth and more.
Johnson and his production team have paved the way in green touring practices with extensive sustainability programs at every show. The Waikīkī Shell shows will continue to revolutionize environmentally friendly touring, including eliminating the use of single-use plastics backstage and at all concessions. All beverages will be served in cans, all serveware will be compostable, and no single-use plastic water bottles will be sold. Instead, fans can bring in or buy their own empty reusable Jack Johnson or Kōkua Hawaiʻi Foundation branded water thermos or cups to refill at the Water Refill Stations that will be located around the venue. Fans can also reduce their carbon footprint by biking to the show and utilizing the Bike Valet service or carpooling with 4 or more friends and parking at the Carpool Only lots located at the front of the venue. Electric trolleys will also bring concertgoers who can park at off-site lots at Kapiʻolani Community College.
For more information on the greening initiatives for Jack's tour, please visit www.jackjohnsonmusic.com. For information on the tour's All At Once Non-Profit Partners, visit www.allatonce.org.
Pre-Sale & On-sale Details:
Kōkua Hawaiʻi Foundation Members Pre-sale - This pre-sale is for Kōkua Hawaiʻi Foundation Members with current Individual or higher paid memberships only. Members will receive an email with a unique code to purchase their tickets from April 18th at 9am through April 19th at midnight HST. Ticket purchase limits will vary based on the level of membership. If you need to purchase or renew a membership, please visit www.kokuahawaiifoundation.org and get your membership current by April 16th midnight HST to be able to be part of this pre-sale.
Kōkua Hawaiʻi Foundation Volunteer Pre-sale - Kōkua Hawaiʻi Foundation will host two Plastic Free Hawaiʻi Beach Cleanups on Saturday, April 15th, one in Kahuku on Oʻahu's North Shore and the other at Kailua Beach Park. Volunteers who spend the morning with us cleaning these beaches will receive a unique code to purchase a pair of pre-sale tickets through the KHF Volunteer Pre-sale on April 20th at 9am through April 21st at midnight HST, and a few lucky volunteers will win a pair of free tickets! Marine debris collected during the clean ups will be incorporated into Jack's stage design and concert merchandise, furthering the awareness of the importance of eliminating single-use plastics. For more information on the cleanups, visit www.kokuahawaiifoundation.org.
Hawaiʻi Locals Only Verified Pre-sale - Another pre-sale opportunity for locals will take place Saturday, April 22nd and will run from 9am to 10pm HST. Tickets for this show will be available through a Ticketmaster Verified Fan Pre-sale and you need to sign up now before Thursday, April 20th, at 10am for access to the Hawaiʻi Locals Only Verified Fan Pre-sale! Please note for the Locals Only Pre-Sale you need to be a Hawaiʻi resident and must purchase tickets with a credit card with a Hawaiian billing address. Any orders attempted with an off island zip code are subject to cancellation.
Public On-Sale - Last but not least, we have the Public On-Sale on Sunday, April 23rd starting at 9am HST online at www.ticketmaster.com or www.bampproject.com, and by phone at 1-800-745-3000.

Please Note: In an effort to keep tickets in the hands of fans, the shows will be a paperless ticket event. Purchaser will need to bring the Credit Card used to purchase the tickets, a matching ID, and paperless ticket for entry to the show. Also please note there will be NO BOX OFFICE ticket sales whatsoever; all tickets will be sold online and by phone only.
Comments